Spearfishing
Spearfishing - Hannibal Lodge Panama
There is an art and a tradition to spearfishing that attracts many sport fishermen. The method itself is ancient, and it can be rooted at the very beginning of people wanting to hunt in water as much as they did in land. This is a great option for any fishing enthusiast, and Hannibal Bank's blue waters are perfect for immersing yourself in the ocean and testing your skills when chasing yellow-fin tuna and other pelagics.
We provide two great spearfishing options:
Blue Water Spearfishing
This is an amazing fishing experience in Hannibal Bank and it's one of our trademark tours.
It's just you against your pray inside the immense, clear blue ocean. The feeling that you get when you're in the water ready to hit that big one is quite unique, and these deep dives will allow you to fish yellow-fin tuna, wahoo, dorados, as well as other pelagics.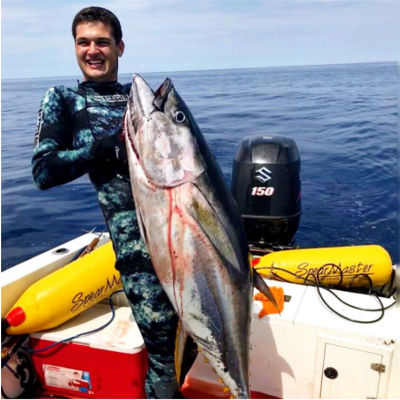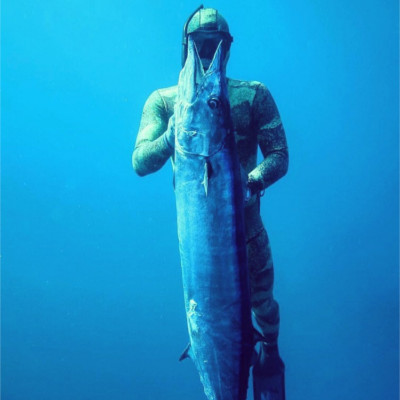 Blue Water Spearfishing is a team effort and we're only happy to help you and your group enjoy it. Be sure to ask about our all inclusive, custom made tuna spearfishing tours at Hannibal Bank, which include transportation and logistics for a 2 to 5 plus day trip for with accommodations for 2 to 4 guests per boat.
Inshore Spearfishing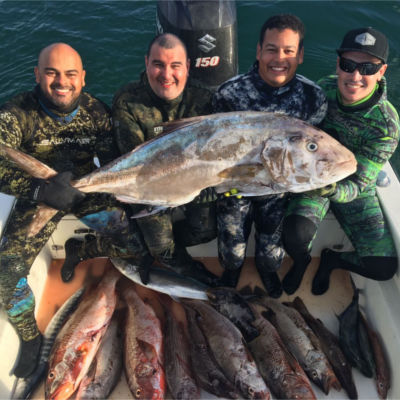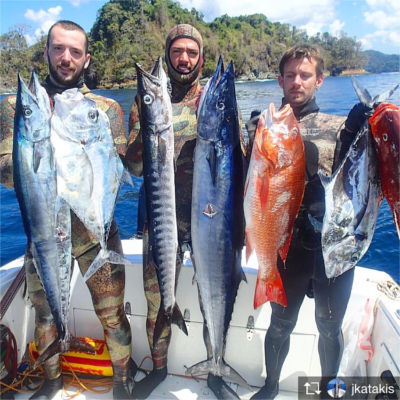 Surrounding spots around Hannibal Lodge are great for inshore spearfishing, especially when the weather is not at its best. You can spearfish by snorkeling or free-diving in shallow waters, testing your skills with your speargun and your gear of choice.
Our all inclusive, custom made tours can last from 2 to 5 plus days (the average is a four-day tour) and can accommodate 2 to 4 guests per boat. All transportation is included as well as logistics, and you can get a chance to fish catches such as wahoos, jacks, groupers, cuberas and dorados. Spearfishing gear is available for rent at the lodge. Come and try it with us!
get in touch
For any additional information regarding our deals and/or services, please contact us:
Social Media